Meet Ms. Jan, Certified Dog Grooming Expert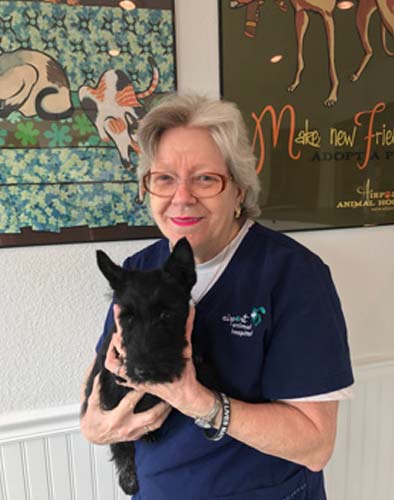 Dog Grooming by Ms. Jan has been a staple at Airport Animal Hospital for over 15 years. She knows each pet, and their personality, personally! Our highly experienced and Certified Groomer has been making Pets beautiful for over 15 years.
When Ms. Jan found her calling, her passion for Pets was ignited. Grooming pets six days a week, and "loving every minute of it," Ms. Jan logged hundreds of hours experience perfecting a variety of cuts. Her favorite Dog cut is the Schnauzer Cut, with its sassy skirt and tapered legs. Ms. Jan enjoys grooming and bathing Cats too, "as long as they cooperate," she says with a wink. The Lion Cut is her favorite, and the top choice of Dr. Cuesta's cats, Chopstick and Martha.
With so many years of Pet care experience, Ms. Jan has many stories to tell. A dust mop might come in, but Ms. Jan's loving care always turns them into a Polished Pooch. One particular passion is for helping rescue dogs feel so much better. Once, a sadly neglected Shi-Tzu was brought to her by a rescue organization. After a gentle bath and combing through all the mats, Ms. Jan realized this was no Shi-Tzu. It was a Lhasa Apso! This revelation required an entirely new direction in the beauty department, but in the end, Pearl was lovely, sweet-smelling, and ready for her new home.
Making Pets more smoochable every day, Ms. Jan has a long list of clients and a dedicated following. She will be delighted to apply her special touch to your Perfect Pooch too!
Example Dog Groom Cuts
MALTESE
Short top knot, hair away from eyes, medium length on cut.
OLD ENGLISH SHEEPDOG
Blending blade or all off
KERRY BLUE TERRIER
Box face, very short skirt
PEKINGESE
Brushout, rear trim
POMERANIAN
Brushout, trim rear
BICHON FRISE
Round face, length of cut may depend on time of year or preference
GOLDEN RETRIEVER
Brush out
COCKER SPANIEL
Short skirt, clean face
SCHNAUZER
Short Skirt, short beard and mustache
CHOW CHOW
Lion cut, fluffy mane and tail
Cat Grooming too!
CATS
Lion Cut or blend into body
POODLES
All off with short Top Knot
SHIH TZU
Short Top Knot, hair away from eyes, all off at times or by preference
YORKIE
Trim and clean face.
SCOTTISH TERRIER
Medium skirt, clean nose and under eyes, square beard and mustache
WEST HIGHLAND TERRIER
Round face, medium skirt, fluffy legs with feet trimmed and under pads clipped.